About the study
The UAE Healthy Future Study is a prospective observational cohort study which seeks to determine how the health of 20,000 UAE nationals (ages between 18-40) is affected by their lifestyle, environment and genes, specifically looking at risk factors for obesity, diabetes and heart disease.
Participants Follow-up
The UAE Healthy Future Study will keep in touch with its participants. In this role, after you have agreed to do so, you will be asked to update information about your health-related activities and your health status.
Although the findings of this research may not benefit the participant directly, the UAE Healthy Future Study will show how lifestyles, genes and the environment affect the health of the local population of the UAE. The UAE Healthy Future Study should give future generations a better chance at living a long life, free of diseases and disabilities.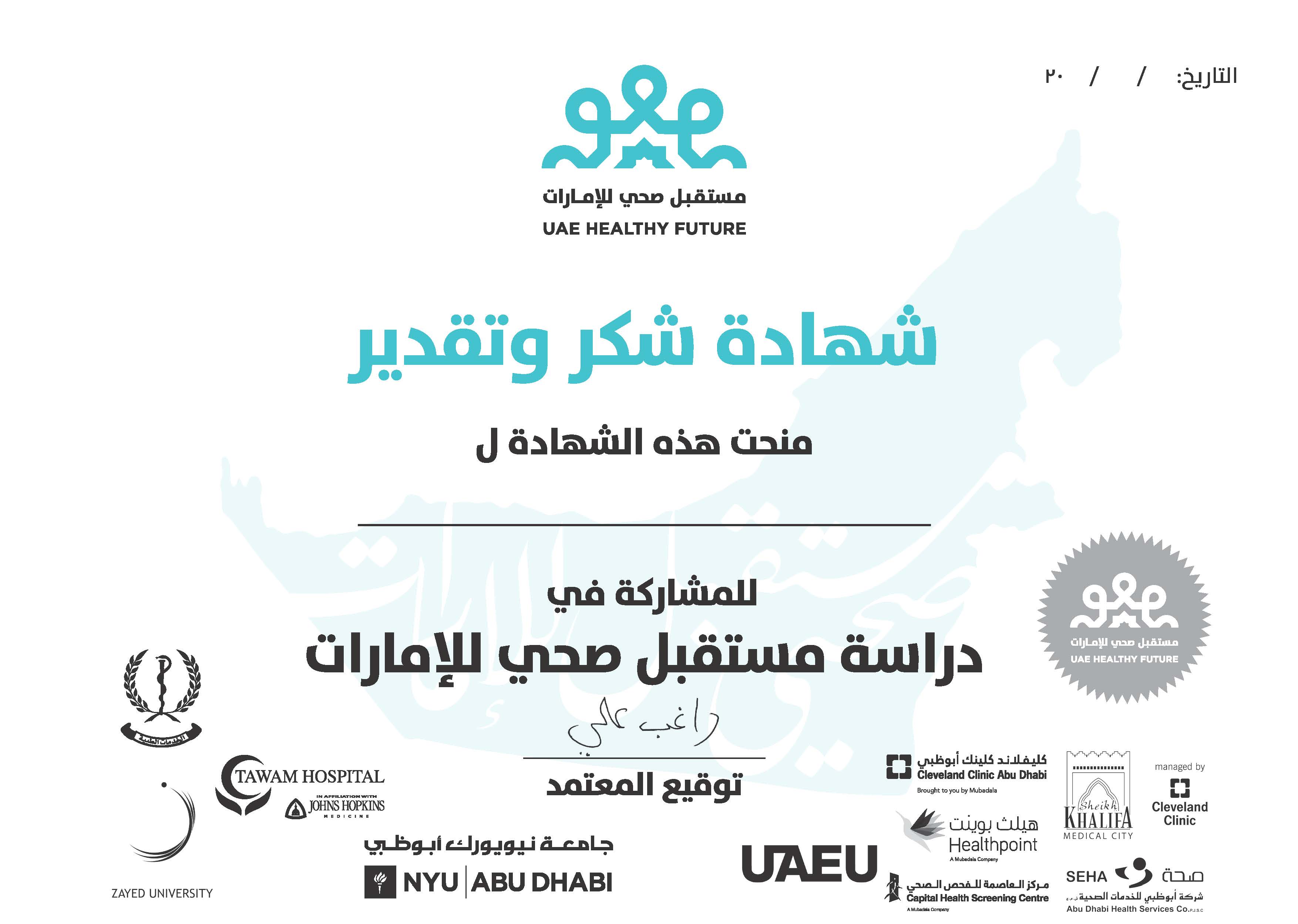 Certificates of Appreciation are presented to Participants of the UAE Healthy Future Study after completion of participation
The Study's Beginning 2013-2015
As this was the first time such a study was being done in the UAE, and following best practice from similar studies internationally and in the region, it was essential to do a pilot study first to establish both the study feasibility and to ensure that all protocols and participant materials were appropriate for the local population.
The scientific protocol for the pilot study was put together over 18 months from 2013 – 2014 as a collaborative effort by investigators from all the institutions listed above with input from the senior leadership of SEHA & Health Authority Abu Dhabi. It was also reviewed and approved by an international advisory committee of leading epidemiologists, physicians and scientists from around the world.
Stage 1
The first stage of the pilot study (September to December 2014) was a series of focus groups with potential participants to develop and optimise the participant information material and study protocols. These were conducted at Sheikh Khalifa Medical City, UAE University, Zayed University and NYU Abu Dhabi.
Stage 2
The second stage of the pilot (actual recruitment of 500 participants into the cohort study) was carried out from January to May 2015. The response rate was very high (68%) and this established that it was feasible to conduct the main study and be able to recruit 20,000 participants.
Based on the experience and the lessons learned from the pilot, the main study protocol was developed over the course of 2015 with ongoing input from local investigators, external expert reviewers and our international advisory committee.
The Main Study
The main study started in February 2016. We expect to complete recruitment by March 2021 after which follow up of participants will begin. The outcome of the study will undoubtedly help us understand specific population risk factors and disease patterns, increase national research capacity, and indeed strengthen a culture of collaboration among scholars and academic institutions in the UAE.
Research Results
The research results will provide directions for prevention programs, particularly in the UAE, where these diseases are a top-priority in terms of prevention and early interventions.
Scientific Significance
As a first national cohort study in the United Arab Emirates to provide scientific evidences for factors leading to the spread of common diseases in society, the UAE Healthy Future Study is playing a key role in disease prevention; it will benefit the UAE, as well as the Arab world.
Privacy & Confidentiality
Your privacy and the confidentiality of your health information are our highest priority and we make every effort to protect them.
We do not give information that identifies you to anyone without your permission, except when required by law.
Insurance companies and employers will never be given any individual's information, samples or test results.
Personal information is kept in Abu Dhabi and is subject to UAE and Abu Dhabi governmental personal privacy protection laws.
Your name, and any other information that could directly identify you, is removed from the samples and other data collected from you; that information is replaced by a code number.
Researchers who will study your samples and information will never know who you are.  We give them only the code number, not any information directly identifying you.
Public  Health Research Center (PHRC)
The analysis of the UAE Healthy Future Study data is done within the four research centers of the Public Health Research Center (PHRC) of NYU Abu Dhabi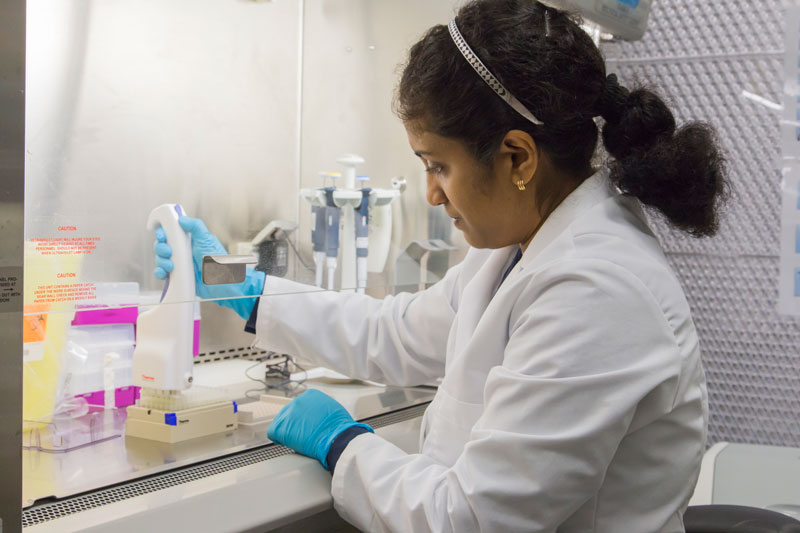 Diabetes Research Center
Focusing on the Molecular Epidemiology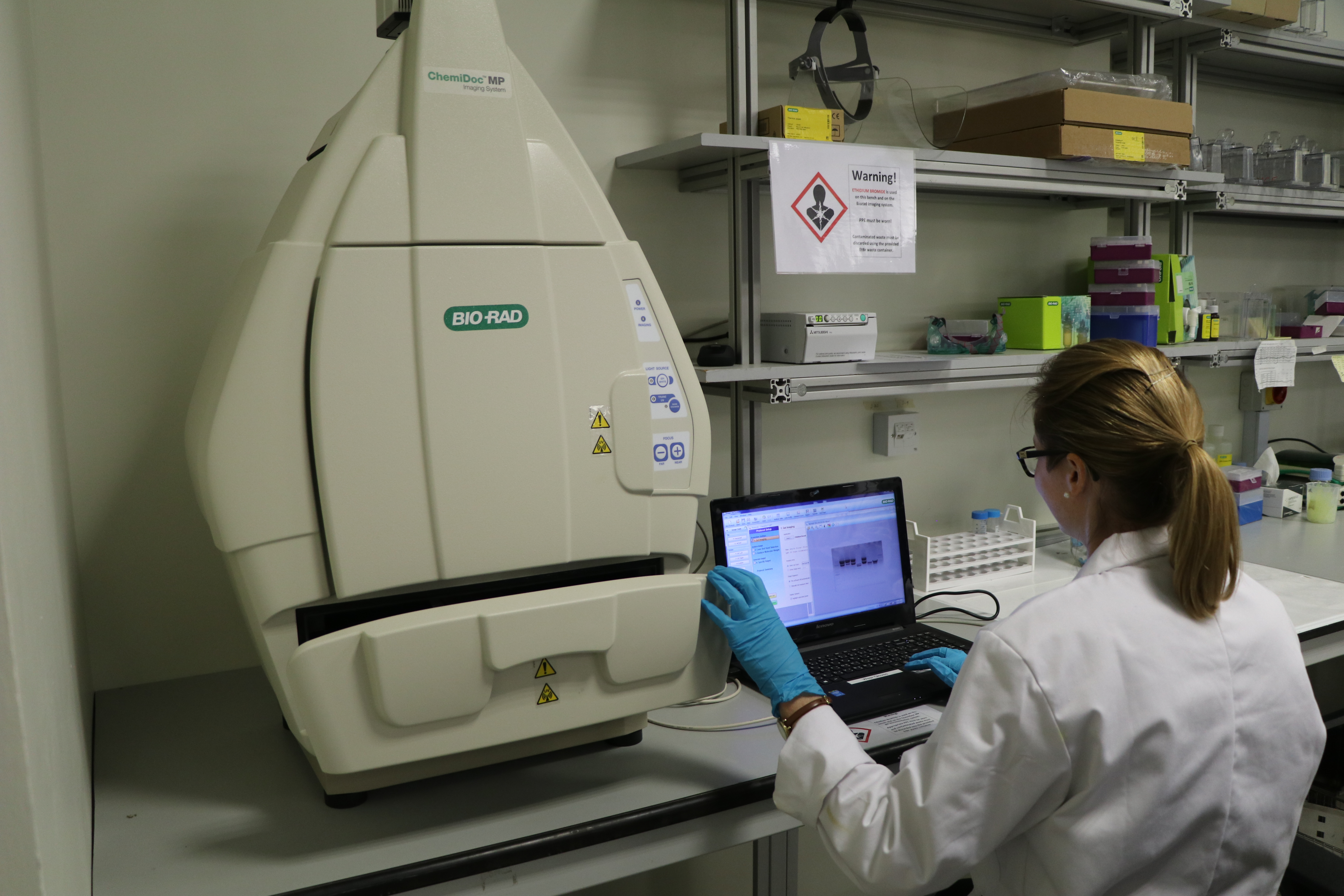 Obesity and Genetic Susceptibility to Diabetes Research Center
Focusing on identifying and validating genetic factors that predispose to diabetes.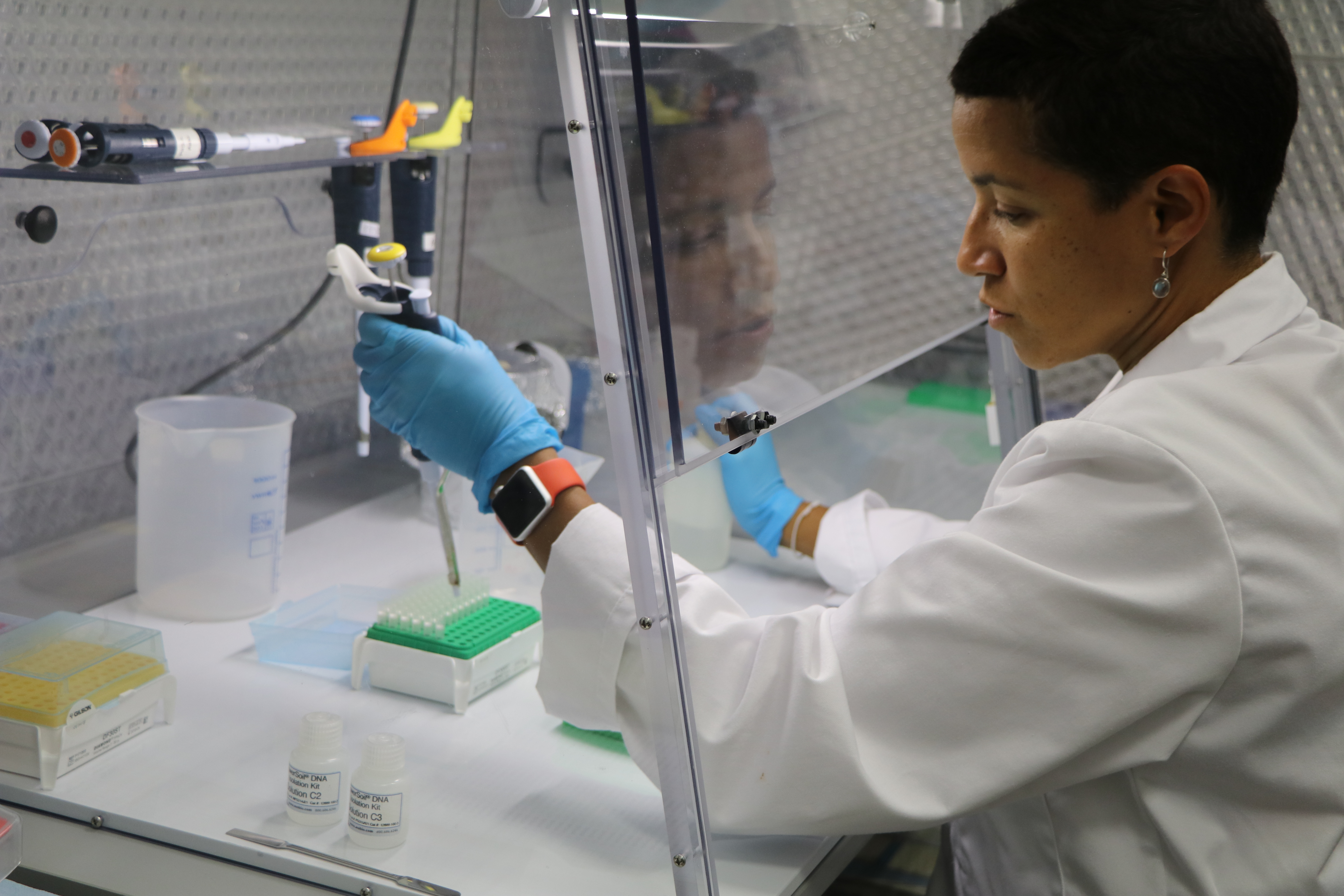 Oral Microbiome Research Center
Focusing on the association between the bacteria in the mouth and cardiovascular diseases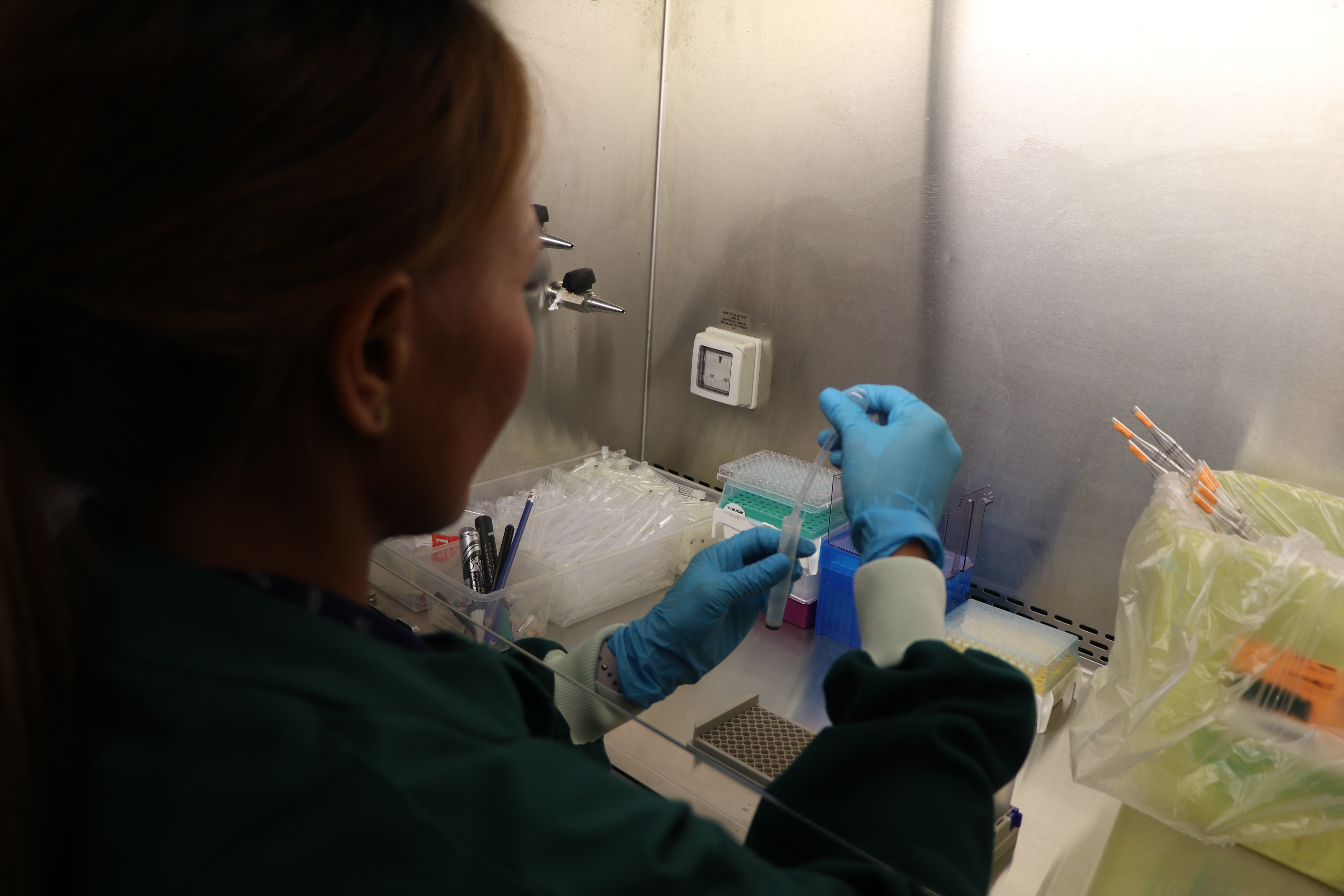 Tobacco Control Research Center
Specializing in tobacco cessation, as well as alternative forms of tobacco consumption